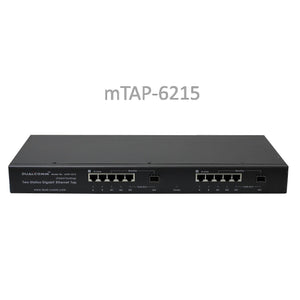 HIGHLIGHTS:
Two (2) copper GbE TAP modules in a 1U rack-mountable chassis
Two aggregation monitor ports and two non-aggregation monitor ports per TAP module
Power Failsafe Bypass
Compatible with PoE. PoE pass-through between two inline ports
Low cost
Dualcomm mTAP-6215 has two 10/100/1000Base-T Regeneration TAP modules built into a 1U rack-mount chassis. 

Each mTAP-6215 TAP module includes a pair of non-aggregation monitor ports and two aggregation monitor ports, one of which is an SFP interface for fiber connectivity. Each of the two aggregation monitor port outputs a copy of the inline traffic in both directions. Each non-aggregation monitor port outputs a copy of inline traffic in only one direction. Using the pair of non-aggregation monitor ports is usually preferred for high data throughput situations to avoid possible packet loss due to port oversubscription.

The two inline copper ports of each mTAP-6215 TAP module will fail over automatically to maintain link connectivity when the mTAP-6215 loses power. As such, mTAP-6215 can be used for deployment in critical link paths in a network.

mTAP-6215 is compatible with Power-over-Ethernet (PoE), which is capable of passing PoE inline power between two copper inline ports of each Tap module. As such a connected PoE powered device (e.g., a PoE IP phone) can still receive the inline power from its PoE capable link partner such as a PoE switch.
ORDER INFORMATION:
| | |
| --- | --- |
|  Model No. |  Description |
|  mTAP-6215 |  1U Rackmount 2-Station GbE Copper Network TAP  |