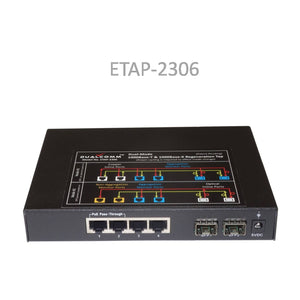 HIGHLIGHTS:
A single Network TAP for use with either a copper or fiber Gigabit Ethernet (GbE) link

Both aggregation and non-aggregation monitoring ports

USB Powered

Compatible with PoE. PoE pass-through between two inline ports

Plug-and-Play. No user configuration is needed
Dualcomm ETAP-2306 is a GbE Network TAP with multiple monitor ports which can be used with either a 10/100/1000Base-T copper link (copper mode) or a 1000Base-X fiber link (fiber mode).

In the copper mode, ETAP-2306 provides four aggregation monitor ports, each of which outputs a copy of aggregated inline traffic in both directions.

The copper mode of ETAP-2306 is compatible with Power-over-Ethernet (PoE), which is capable of passing PoE inline power between two copper inline ports. As such, a connected PoE powered device (e.g., a PoE IP phone) can still receive the inline power seamlessly from its PoE capable link partner such as a PoE switch.

In the fiber mode, ETAP-2306 provides two aggregation monitor ports and a pair of non-aggregation monitor ports. Each non-aggregation monitor port outputs a copy of inline traffic in only one direction. Using the pair of non-aggregation monitor ports is usually preferred for high data throughput situations to avoid possible packet loss due to port oversubscription.

ETAP-2306 uses the standard small form-factor pluggable (SFP) modules when ETAP-2306 operates in the fiber mode. ETAP-2306 itself does not include the SFP modules, which, however, are widely available on the market for multi-mode and single-mode fiber links. Copper SFP modules are also available for use with ETAP-2306.

ETAP-2306 automatically switches between the two operation modes by detecting the presence of SFP modules. No additional user configuration is needed.

ETAP-2306 can be conveniently powered by USB power from a USB host device such as a Laptop computer.
ETAP-2306 works with any non-SGMII based 1000Mbps SFP modules. Specifically, we have the following SFP modules available for ETAP-2306:
1) DPM-1G-SX-01: SFP, 1000Base-SX, 850nm, MMF, 550m.
2) DPM-1G-T-01:  SFP, 1000Base-T, RJ45, CAT5E, 100m.
ORDER INFORMATION:
| | |
| --- | --- |
|  Model No. |  Description |
|  ETAP-2306 |  Dual-Mode GbE Copper & Fiber Network TAP |